Following everything happening in Ukraine from the very beginning, we could not remain indifferent. Ukrainians are not only our close neighbors but also friends, patients, family, and colleagues. We experience each terrifying attack on our Ukrainian neighbors with them. Our hearts and minds stay with the heroes fighting for Ukraine and those who needed to run to survive and protect their close ones.
We believe that actions need to be taken now; therefore, we decided to take all steps to make our contribution to help. For several weeks, the entire sky team has been involved in helping on various levels.
Help for new refugees (Допомога новим біженцям)
Many Ukrainian refugees need help from the very beginning of their entry to Poland. Therefore, we decided to offer our support in the first steps after their arrival: we direct each newcomer to the aid center for Ukraine, where they receive the most important information and the necessary help. Refugees receive there, among other things, the required information regarding registration, PESEL number, or temporary group accommodation.
Apartments rental (Оренда квартир)
So far, we have managed to find 6 apartments (located in Zabrze) intended for people coming from Ukraine. The sky team equips the apartments with the necessary furniture and household items and provides the first grocery shopping. We take care of everything from the beginning: from selecting and purchasing equipment to transport and installation. We are also scrupulously working on monitoring aid groups and keeping a list of bookings for the offered apartments on an ongoing basis, thus looking for more available apartments.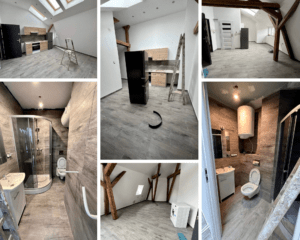 Voluntary work (Волонтерська робота)
The entire sky gate team is committed to helping you with the daily needs: volunteering to raise money, helping with physical work, providing the necessary equipment (such as a bicycle donation). The sky team also managed to buy a new laptop for a 15-year-old boy from Ukraine.
Looking for job opportunities (Допомога в пошуку роботи)
The sky team is committed to helping Ukrainian people find a job. We keep track of opportunities offered by various companies (as well as ours) for people with different language abilities or qualifications.
#TechforUkraine campaign by Tech to the Rescue  (Кампанія від Tech to the Rescue #TechforUkraine)
Tech to the Rescue – a non-profit organization formed by tech businesses to assist social impact groups worldwide in implementing digital solutions to expand their influence, has organized a Tech for Ukraine campaign, which we couldn't miss a chance to join. The campaign enables companies worldwide to help Ukraine on many levels, either by humanitarian actions such as improving cybersecurity, embedded payments, empowering local organizations, as well as empowering civil society by decentralizing resource management, making collaboration easier, and more. 
sky gate decided to donate a modest sum of money for the organization, thanks to which we have also become part of the Polish Angels project.
Tech to the Rescue has shown us that good comes back. In this case, in the form of valuable knowledge and development. And we encourage everyone willing to help add your donation here: https://www.techtotherescue.org.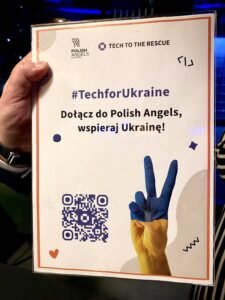 Дорога Україно. Обіцяємо зробити все можливе, щоб допомогти та зупинити агресію. Наші серця з вами ~ sky gate